Am i good candidate for hair transplant surgery? what is proper age for hair restoration procedure? This topic is a much talked about treatment for baldness. Before planning a surgery it is very important to discuss with your hair transplant surgeon in detail to avoid any disappointment later. If you are suffering from baldness it does not necessarily mean that you have to undergo surgery. There are some medical and natural ways also to treat baldness or thinning . Before selecting any treatment it is very important to be fully educated on that. You should know the pros and cons of the treatment, the risks and any complications related to the treatment and most importantly if that treatment is suitable for you or not.Though hair restoration surgery is acclaimed as the best treatment for baldness but it miraculously works for people who are distressed and dejected due to their impending problem of baldness. First of all you need to know, whether you are a  good candidate for surgery or not. Only a skilled and honest surgeon can guide you on that properly. Sometimes you are not suitable candidate for hair restoration and a greedy and unethical surgeon advice you this surgery, the result is highly disappointing and your time and money go in vain because you cannot get the expected and desired results.
A candidate who has little bald spot and the donor area is fuller and dense, that is an ideal for this procedure. The people who have donor area on the sides and back of the head they can also go for the hair restoration surgery. The people who are older in age and they have mature baldness are good candidates . People of very young age are not suitable for the surgery because they are going through the process of hair fall and keep falling after the surgery also. The people who have very little donor area and a large bald patch, they are not candidate of hair restoration. The people who have diabetes, cardio diseases or hepatitis, they need special care and require certain precautionary measures for the surgical procedure.However, with FUE technique it becomes easy now to do surgery of the people who have diabetes or cardiovascular problems because it is very less invasive method due to its no scar and no suture technique. With FUE it becomes possible to do surgery of the people who have not sufficient donor area on head for transplantation because with this technique follicles can be removed from any part of the body. Conclusively, it is utmost important for you to know if you are a candidate for hair transplant or not prior to taking your decision.
Am i good candide for hair transplant surgery?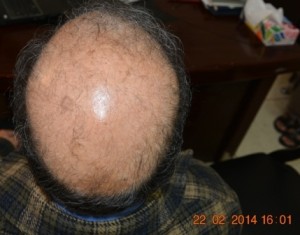 This picture show crown area baldness and donor is not enough so he is a poor candidate for hair restoration surgery. However if we can take follicles from his body like chest,beard,abdomen and back then we can give him average density on the crown area.