Estimated expense of hair transplant in Pakistan depends upon number of factors and most important is number of follicles or hairs. Some techniques are cheaper while other expensive. Experience, qualification and skill of surgeon are major detrimental factors in final price of hair restoration. New hair restoration surgeon who has just established his clinic few months earlier cannot compete with those surgeons who have years of hair transplant surgery experience. Estimated expense of hair transplant in Pakistan is divided into male pattern hair loss basis.
Norwood class 1 to 3 cost for FUT in Pakistan is 45000 to 60,000 Pak rupees
Norwood class 4 and 5 will cost you 60,000 to 75000 Pak rupees
Norwood class 6 & 7 required minimum 2 session and maximum 3 sessions an each procedure will cost 75000 to 120,000 Pak rupee.
The above prices are valid for Strip or FUT technique. If someone chooses Follicular unit extraction without stitches and incision then prices are 50% to 70% higher.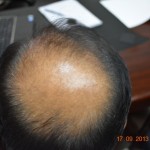 Similarly body hair transplant cost in Pakistan is charged 200 rupee for one graft.