Male or female pattern baldness and thinning of hair is common in all races. There are lot of options for hair restoration in Pakistan. It is important to know cause of baldness and evaluation from specialist. There are some diseases which cause baldness or Alopecia. By treating those conditions improve hair growth. There are certain diseases which causes damage to the scalp which result baldness. Proper diagnosis and evaluation is necessary and physician diagnose whether medical hair restoration is possible or surgical option.
Non Surgical hair replacement system in Pakistan 
These are artificial hair in the form of toupees or wigs and commonly called non surgical replacement systems. The market is full of non surgical hair replacement systems in Pakistan. It is temporary and artificial fibres placed on the scalp and gives impressive look. There are varieties of non surgical replacement systems and different qualities. Some are with glue and other attached with scalp by clips. It is good for those who want quick result, baldness due to chemotherapy or alopecia patients. The cost of such non surgical units is higher than surgery on long term basis as these artificial units required maintenance and replacement after certain period.
Scalp Reduction surgery
This procedure is used for patients with Norwood class 6 and 7. Scalp reduction surgery was common previously but now rarely performed on patients.  Total bald area is reduced by series of scalp reduction surgeries and usually one to two procedures required to reduce the total bald area.  Scalp reduction surgery is used in combination with other  techniques.
Follicular Unit Transplant surgery (FUT)
Follicular unit transplant surgery is a strip procedure where some part of the donor area is removed in the form of strip and then individual follicles are separated under magnification by trained technicians. It is an excellent technique if performed by experienced doctor. The results are impressive and undetectable by this surgery method.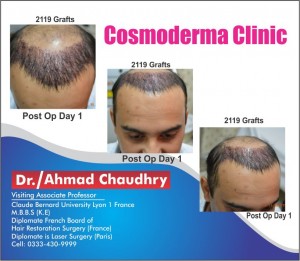 Follicular Unit Extraction
It is recent technique of hair restoration in Pakistan and more marketing on internet about this technology. The major advantage is in harvesting of donor area. There is no linear scar and grafts are extracted one by one with small rounded punches. The recovery is quick and minimal invasive hair replacement procedure. The transection rate is higher as compared to strip surgery. Hair restoration in Pakistan is possible and surgeon will guide and help you which procedure is best for you. As every person has different hair loss pattern and decision is based on keeping in mind short and long term patient's goal and expectation. Hair restoration in Pakistan is performed without any complication like other counties of the world.