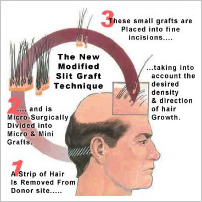 Frontal hairline creation is the most important aspect of hair restoration surgery in Lahore.Hairline is the signature of the surgeon.There is dramatic improvement in the techniques of hair transplant surgery in the recent years.The expectations of the patients also increased and today patients want an undetectable and totally natural hairline.Patient does not want to have pluggy or grafty phase and embarrassment in life.It is the hallmark of Pakistan hair transplant center,Lahore. We don't use micrografts in the frontal hairline rather our expert technicians trim these micrografts and remove extra epithelium and skin from the grafts,making them skinny or smaller in size.These smaller grafts or follicular unit are the final follicles that have the characterisitcs to give natrualness and undetectablity in the frontal hair line.Smaller size of these Follicular units give more density or placement of more number of grafts in one square cm and tinier incisions without any trauma.Our hair surgery clinic in Lahore exclusively use only trimmed Follicular units as these trimmed follicles never give pitting effect.If there are untrimmed follicular units and epithelium is there and placed deeply then pitting effect is visible which would be the embarrassing situation for patient in future and bad impression and repute for the hair surgeon and team our Clinic is the best in innovation regarding surgical techniques as we consider 2 to 4 cm frontal area as front hairline and tiny follicular units placement throughout the area ,while most of the other doctors or hair restoration surgeons consider only 0.5 to 1 cm anterior border as the frontal hairline area.The frontal line should be ill defined and irregular so that it gives natural look and only single hair should be placed on the frontal hairline.
How to create density or dense packing
"The hallmark of hair transplant in Pakistan is dense packing and great illusion in the transplanted hair density.We place single hair on the frontal area and 2 hair follicular unit just behind the frontal hairline zone and 3 hair grafts in the mid scalp area.This is our strategy in every case so that we can produce good density in the frontal tuft area because this high hair density has great aesthetic impact and adding more illusion of hair density overall.We are following the Nature and every human being has same pattern of hair density.
Mega session or large number of Follicular unit micrografts
We follow the latest international trends and our hair surgeon continuously updating himself by participating in international courses,seminars,lectures and conferences and providing same standard at our clinic in Pakistan .We provide  maximum number of grafts in single session and we are placing sufficient number of grafts in the hairline so that it should look natural.We are placing 0.8 to 1.00 mm apart, each graft and giving 30-65 follicles/cm2.Higher hair density is possible upto 60-90 micrografts per square cm but this can be done in selected cases where donor area is sufficient and bald area is less
Lower hairline is a sign of bad hair transplantation?

The frontal hairline shoule be placed four finger breadth above the eyebrow.it is usually 8 cm from the eyebrow.However we do consider facial features and what is best for frontal hairline after examining the  face,hair expert suggest you. Too much lower frontal hairline is a sin and bad impression of hair restoration surgery.

Techniques
 Fine Tuning of procedure:

It is our surgeon policy to save few hundreds hair follicles and place them where appropriate for more density toward completion of procedure in Lahore clinic for frontal hairline.Our main emphasis is to put more number of grafts in the central tuft area for thickness and to avoid see through effect. This frontal hair density will please the patient and give impressive look in his future life.
You can find information by searches related to following terms:-
female hair loss frontal hairline
hair transplant frontal hairline
hair transplant frontal hairline cost
hairline hair loss after pregnancy
hairline hair loss treatment
hairline hair loss remedy
frontal hair transplant cost
hairline restoration cost